Packing And Boxes Greenwich se10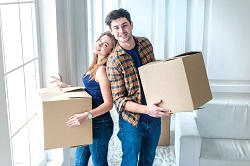 Secure, Easy and Professional Packing Services in Greenwich

If you want to ensure that your belongings stay safe and organized during a move, it is essential to purchase the right packing materials. You can find a full range of cardboard boxes, bubble wrap, polystyrene and more when you come to Greenwich Removals, packing and boxes services. We have been providing moving solutions across the SE10 region for years, so you can rely on us to provide you with premium quality packing material at all times.

When you contact us, we will be happy to give you a free quote instantly. Our useful advice will help you decide which packing materials are best suited to your needs. You can also ask our experts general questions about the moving process, so if you are uncertain about something, don't hesitate to get in touch. All of our products are certified for quality and safety.


Eliminate Unwanted Stress from Your Move

Moving homes or offices can be difficult enough as it is without having to worry about how your items are being kept safely. Choosing the wrong type of packaging solution can put your goods at risk of breaking, but with our top quality packing supplies, this won't be a problem. We make sure that your valuables are well-protected while they are transported from one place to another. Whether you require bulk boxes or just need a few items, we can supply whatever you need in good condition.

Our prices are very reasonable and we accept all major payment methods, making it easier for our customers to access packing solutions quickly. If there is anything else that you would like to discuss with us or if there is something specific that you would like to order, just let us know! We are available 24/7 and our team will be more than happy to provide cost-effective services tailored in accordance with your budgetary requirements. So don't hesitate to call
today!